Dr. Alex Koper

 1917 - 2004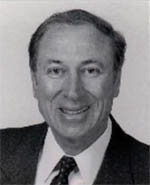 by Fellow Howard M. Landesman
When I learned of Alex Koper's passing, I knew I had lost a best friend. Upon further reflection, I realized that for the 35 years I was his student, colleague and friend, he had the most influence on my professional career. I always felt honored to be one of his students. 
As a teacher, it became apparent that he loved to demonstrate how to perform a procedure, communicate with a patient or discuss any information related to prosthodontics.  A day would not pass without Alex Koper saying, "let me show you how to do this." To watch the master at work was a thrill.  Patients adored him.  They realized that when he was with them, his only concern was their well-being.  He had an extraordinary understanding of people.  Nothing, absolutely nothing, could distract him from his one-on-one interaction with his patients. 
His articles on 'Denture-Birds' and 'Why Dentures Fail' are classics in the prosthodontics literature.  And while he gained great respect for treating the difficult edentulous patient, he was equally recognized in fixed prosthodontics.  He was one of the first prosthodontists in the nation to Chair a program that placed equal emphasis on fixed and removable prosthodontics.  I vividly recall a national meeting of all directors of prosthodontic programs in which Alex Koper presented compelling reasons why all prosthodontic programs should become integrated to include fixed and removable prosthodontics.    
I was flattered when he asked me to pursue a full-time career in academics and help him direct the advanced prosthodontics program at USC.  Working closely with him was 'a dream come true.'  I observed how he influenced faculty to encourage students to be innovative, creative and caring for patients. 
As the years progressed, he was always proud of his former students.  Many of his students became Diplomates of the American Board of Prosthodontics.  A number of them held major positions in the most prestigious organizations in our specialty and in educational institutions throughout the world.
Alex Koper symbolized the very best of human nature.  All of us who had the fortune to have come in contact with him will never forget him for what he did to enrich our lives.  We will truly miss him.