Dr. Carl Jerry Andres

October 16, 1942 - June 16, 2010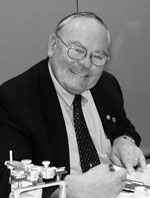 Dr. Carl J. (Jerry) Andres passed away June 16, 2010. Jerry was born October 16, 1942 in Starlight, Indiana. He married Ida Kerstiens August 31, 1963. Jerry and Ida had four children; David, Duane, Dawn and Daniel; and twelve grandchildren.

He earned his DDS and MSD degrees from Indiana University School of Dentistry and completed a Maxillofacial Prosthetics Fellowship at MD Anderson Hospital. After serving 20 years in the Air Force, he retired as a Colonel, and spent the next 24 years as a professor at IU School of Dentistry, most of it as the director of the Graduate Prosthodontic and Maxillofacial Prosthetics programs. As program director, his mentoring, leadership and compassion came to the forefront. He directed about 120 graduate students, from almost 40 different countries, through their graduate programs. Many of these students are now influential practitioners, teachers and school or government health administrators throughout the world.

Jerry was an astounding example of professional citizenship. In addition to his fellowship in the Academy of Prosthodontics, he was a fellow of the American Academy of Fixed Prosthodontics, the American Academy of Maxillofacial Prosthetics, the American College of Prosthodontists, and was a member, and often served as an officer, of several other professional organizations. He served as the President of the Indianapolis District Dental Society during his career at Indiana University. His high professional standards and integrity are reflected by his election to the American Board of Prosthodontics, where he eventually served a year as President.

Jerry was an exemplar for community service. Besides the many school, campus and professional organization committees he served on, and often chaired, he donated his care to free clinics and the A.P. Outreach Programs for Native Americans in Ada, OK; Pine Ridge, SD; Browning, MT; and Juneau, AK. He chaired United Way campaigns for the IUPUI campus and local dental society. Jerry and Ida have been faithful supporters of Indiana University School of Dentistry, having established a scholarship for graduate prosthodontic students. Dr. Andres was a firm supporter of the Boy Scouts of America and the Knights of Columbus, again rising to high levels of responsibility in those local organizations.

Dr. Andres was also known for his passion for his hobbies. He enjoyed card games, gardening, woodworking, wildlife carving, fishing and boating. Many of his students, when completing the graduate prosthodontic program, were awarded with a set of his handmade, wooden pen and pencil sets he had turned. Jerry would often specially select the wood for each graduating student, based on their country of origin or other special reason.

Academy member Gene King, in his letter of support for Jerry?s nomination for Associate Fellowship in The Academy, gave this concise description of Dr. Andres and Ida: ?two of the nicest people I know?. That, indeed, describes Dr. Carl J. Andres. He is missed by all who had the good fortune to know him.