Dr. Dewey H. Bell

December 1923 - August 20, 2011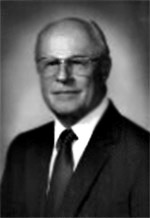 Dr. Dewey Bell, affectionately known by his family and friends as "Doc", passed away on August 20, 2011 in the company of his loving family. Dewey was preceded in death by his wife, Nancy. The oldest of three children, Dewey was born in Tabor City, North Carolina.

Dr. Bell had a distinguished term in the United States Air Force, assigned as navigator and bombardier, seeing extensive combat experience until his honorable discharge in 1946 at the rank of 1st Lieutenant. He was awarded the Air Medal and three battle stars.

Graduating from Wofford College, Dewey later went on receive his DDS degree from the Medical College of Virginia School of Dentistry, where he also enjoyed a thirty five year academic career, serving as Chairman of the Department of Removable Prosthodontics for twenty six of those years. In the mid 1960s Dewey was instrumental in the organization and treatment of the first patient to receive a computer generated removable implant prosthesis at the School of Dentistry. His contributions to the school and the profession were many and he received the Outstanding Alumnus Award in 1986. After his retirement from teaching in 1987, he continued in private practice in Richmond, Virginia until his retirement from practice in 1998. Dewey enjoyed life in Myrtle Beach, SC until 2007 when he returned to Virginia to reside with his daughter and son-in-law at "Windward" on the Piankatank River.

Dewey joined the Academy of Prosthodontics in 1968 and went on to serve as President in 1991, with the meeting held in Wintergreen, Virginia that year. His professional accomplishments were numerous as he served as a teacher, clinician, author, lecturer, researcher and a leader in organized dentistry. He served as a consultant to numerous military dental centers as well as to the National Institute of Health and the American Dental Association?s Commission on Dental Education. In addition to his presidential service to the Academy of Prosthodontics, he served as president of a number of other prosthodontic organizations.

Dewey was not "all work and no play". He was an avid outdoor sportsman, excellent marksman, archer, and passionate fisherman. He lived life with enthusiasm and leaves behind many to honor his legacy - he is greatly missed by his family and many friends.