Dr. I. Kenneth Adisman

August 3, 1919 - March 5, 2000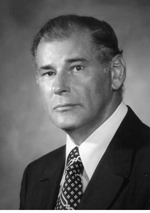 I. Kenneth Adisman, professor emeritus at New York University College of Dentistry, died March 5, 2000 at Memorial Sloan Kettering Hospital in Manhattan. He was 80.
Honored by being listed in Who's Who in America, Who's Who in the World, Leaders in American Science and Leaders in American Dentistry, Dr. Adisman helped develop and publicize the special area of maxillofacial prosthetics.
Dr. Adisman's distinguished career spanned five decades and involved private practice, education, research, administration, writing and editing. He was chairman of the Editorial Council of the Journal of Prosthetic Dentistry for 10 years. Under his leadership the Journal achieved academic and financial success, making it the leading publication in prosthodontics worldwide and one of the top publications in all of dentistry. He was also a section editor, where his writing and editing skills ensured the publication of valuable research and clinical reports.
Dr. Adisman was an examiner and past president of the American Board of Prosthodontics as well as past president of the Academy of Prosthodontics, the Greater New York Academy of Prosthodontics, and the American Academy of Maxillofacial Prosthetics. He was also Director of the International Circuit Courses.
At NYU College of Dentistry, Dr. Adisman served as Director of Maxillofacial Prosthetics, Director of the Advanced Education Program in Prosthodontics and as a department chair. He raised over $5 million in grants and gifts to support patient care and student life at NYU. A researcher and author, he has numerous publications to his credit.
Dr. Adisman was a member of Omicron Kappa Upsilon. He was a recipient of the Alumni Achievement Award from NYU College of Dentistry, the Alumni Achievement Award from the University of Buffalo School of Dental Medicine, the Achievement Award from the Greater New York Academy of Prosthodontics and the Carl O. Boucher Distinguished Service Award.
Dr. Adisman is survived by his daughters Kathryn and Leslie of New York; a sister Beatrice and brother-in-law Dr. Sydney B. Lewis of Lawrenceville, NJ.