Dr. J. Hart Long, Jr.

April 25, 1920 - October 6, 2016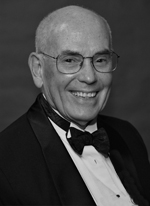 Dr. J. Hart Long, Jr. passed away peacefully in Holly Hill, FL, on October 6, 2016, at the age of 96. Ginny, his wife of 69 years, was holding his hand when he died.

Hart was born April 25, 1920, in Conway, SC, and graduated from Conway High School in 1937.  He graduated from Furman University in 1941 and the Medical College of Virginia Dental School in 1944.  With further study, his practice became more focused on prosthodontics.  Upon graduation, he joined the United States Navy Dental Corps and served on a hospital ship in Tokyo Bay at the end of the war in the Pacific.  He moved to Daytona Beach in 1946 and began his dental practice.  He was quickly recognized as an excellent dentist with a homespun chairside manner that endeared him to his patients.  Hart was a member of multiple local, state and national dental and dental specialty organizations and served on many organizational committees.  He joined the Academy of Prosthodontics as an Associate Fellow in 1968 and became an Active Fellow in 1971.  He served on multiple committees and rarely missed an annual meeting.  He and Ginny would often fly their small private airplane to meetings taking the time to enjoy other parts of the United States traveling to and returning from these meetings.

In addition to his professional career, Hart was very concerned about his community.  When Hart moved to Dayton Beach, it had one of the most corrupt city governments in Florida.  Illegal gambling was rampant.  Hart ran for the city commission on a platform of cleaning up city government.  He served the city from 1950 to 1958 as a commissioner and served as Mayor of Dayton Beach in his final years on the commission.  It was stated that ?Daytona Beach?s city government has never reverted to corrupt machine politics since Hart Long completed his tenure in 1958?.  Hart was a reluctant entrant into the political world and generated much controversy resulting in a beating at the hands of his opponents.  He was determined to work for what is right which included his own personal battle for racial equality.  He worked toward a smooth transition after segregation was outlawed to facilitate open seating on buses and open swimming on Daytona Beach for all races.  When he learned that several people who worked for him who were black were living in deplorable conditions, he approached banks about lending them money to buy their homes but was refused because they were located in ?bad neighborhoods?.  He then approached one of his wealthy patients, when she was captive in the dental chair, about this racial injustice.  She subsequently built 55 homes for low-income black families and financed them herself.   Throughout his life, he continued to work on community projects including water drainage, pest control, sewage issues, street lights, etc.

Hart met Ginny on a tennis court and married her three months later.  Hart and Ginny are very spiritual people.  They often expressed comforting comments to Academy of Prosthodontics members when they knew of troubling issues in their lives.  They loved all people without regard for their status or expectation of return and welcomed them to their family table and their family circle.  Hart was governed by a simple faith and simply believed, trusted, and humbly followed his Lord.  For more than 60 years they were members of the First Presbyterian Church where Hart served as an elder and a Sunday School teacher.  In addition to Ginny, Hart is survived by his sons, James Hart Long, III, and Ray Watford, and daughters, Sarah Long Wiegman and May Long Andrews, five grandchildren and three great grandchildren.

Hart Long stated that he judged his father to be his best role model.  He believed him to be wise and generous and one who strove to do what was true, just, and right.  Certainly, those adjectives amply describe J. Hart Long, Jr.  May he rest in peace.



The family has a memorial site at
http://www.tributes.com/obituary/show/James-Hart-Long-104016636
.