Dr. Robert H. Sprigg

1925 ? April 19, 2012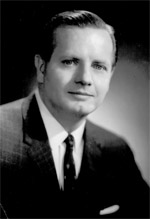 Robert H. Sprigg, 86, of Medford, OR passed away peacefully at home on April 19, 2012 surrounded by family. Born and raised in Denver, CO, he met the love of his life, Jeanne, while attending high school. During WWII, he served in the US Navy, while his wife served in the US Coast Guard. They were married in 1946, and thanks to the GI Bill, both were able to attend college. Bob earned a degree in philosophy from Regis College (cum laude) in Denver, CO and subsequently attended Creighton University where he received the DDS degree in 1952.. He then went to graduate school and was granted the PhD degree in anatomy. The couple raised five children while he established a dental practice and taught anatomy at Colorado University Medical School. In 1975, he joined the Veterans Administration as Chief of Dentistry at Northridge Veterans Hospital He supervised the residency program at the University of Southern California Westwood, while continuing to teach at USC. During his remarkable career, he was known for his innovative and pioneering work in the field of prosthetics and prosthodontics. He lectured nationally and internationally, and mentored many young dentists entering the profession. He found great satisfaction in creating facial prostheses for injured veterans.

Bob became affiliated with the Academy in 1967, when L. Wood Swaggart, prosthodontist from Denver, CO nominated Dr. Sprigg for Associate Fellowship. He attended meetings, presented papers and table clinics until 1971 when he was elevated to Active Fellow status. Bob was active in the Colorado Dental Society as well as the Colorado Prosthodontic Society, of which he became President in 1962. He was a member of the ADA, the APS, American Cleft Palate Assoc., and A Fellow of the International College of Dentists.

Bob and Jeanne moved to Medford, OR in 1993, where he retired from the White City Veterans Center. Following his retirement after 21 years service with the VA, he continued to volunteer with Veterans Stand Down events at the White City Domiciliary. He also became a "master" gardener for the Jackson County where he was especially interested in roses. He designed several gardens in the community, including the McCully House rose garden.

Bob was preceded in death by Jeanne, his beloved wife of 64 years. He is survived by children, Greg and Nancee of Denver, CO; Mary Kay Jorgensen of Medford, OR; Maureen and Gary Demuth, Anne and Lee Kimball, Susan Haines and Fred Jenkins all of Trail, OR.. They had eight grandchildren, three great-grandchildren and numerous nieces and nephews.