Dr. William R. Laney

May 26, 1928 - November 14, 2019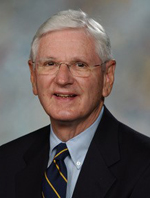 Dr. William R. (Bill) Laney was born May 26, 1928, in Kendalville, IN, and passed away November 14, 2019, in Eden Prairie, MN.
After graduating from high school, Bill attended Stanford University on a basketball scholarship. At Stanford, Bill met Sally Ann Boutin and when Sally returned to her home state of Oregon, Bill transferred to the University of Oregon where he received the BS degree in 1950 and the DMD degree in 1954. After serving in the United States Air Force, Bill entered a prosthodontics residency program at the Veterans Administration Hospital, Iowa City, IA, in1956. Bill received a certificate in prosthodontics from the Veterans Administration and an M.S. degree from the University of Iowa in 1958. At the completion of that program, he received a Postdoctoral Grant from the American Cancer Society to study Maxillofacial Prosthetics at the Memorial Center for Cancer and Allied Diseases in New York City, He completed that fellowship in 1959.
Upon completion of his formal education, Dr. Laney returned to Oregon where he was an Assistant Professor of Prosthodontics while maintaining a private practice. In 1960, Dr. Laney was appointed to the staff of the Mayo Clinic as the first prosthodontist at Mayo. He was primarily a clinician with an academic appointment in the Mayo Graduate School of Medicine. He rose to the rank of Professor of Prosthodontics in 1976. He developed the Advanced Education in Prosthodontics Program which began in 1966 and was the initial program director. He was Chairman of the Department of Dental Specialties at Mayo from 1976 to 1985. He retired from Mayo Clinic as Professor Emeritus in 1992. Dr. Laney was appointed Editorial Chairman for the International Journal of Oral and Maxillofacial Implants in 1985 which he continued after Mayo retirement until 2006.
Dr. Laney was a member of many prosthodontics organizations and served as President of the American Academy of Maxillofacial Prosthetics (AAMP), the American Cleft Palate Association, the Carl O. Boucher Prosthodontics Conference, the Federation of Prosthodontics Organizations (FPO) and the Academy of Osseointegration. He served as Secretary and President of the Academy of Prosthodontics (AP). He was a Diplomate of the American Board of Prosthodontics (ABP) and served as its secretary and President. Bill received several awards during his professional career including the Ackerman Award of the AAMP, the Carl O. Boucher Distinguished Service Award of the FPO, the Distinguished Lecturer Award of the Greater New York Academy of Prosthodontics and the Distinguished Service Award of the AP.
Dr. Laney was an excellent clinician and teacher. Interestingly, while Bill was teaching the residents, Sally was teaching many of the residents' children at nursery school. Bill and Sally were not only great teachers but they were also compassionate and caring individuals who made all who entered the Mayo program feel welcome and respected. In their spare time, they were ardent supporters of the University of Minnesota Golden Gophers athletic programs, especially basketball and football.
In 1970 Bill and Sally built a "cabin" at Lake Owen in Wisconsin where they enjoyed many summer weekends with their four children. Upon retirement from the Mayo Clinic in 1992, Bill and Sally wintered in Rio Verde, AZ, and returned to Lake Owen for the summers. Unfortunately Sally passed away in 1994 leaving a large vacuum in the Laney family. With a large void in his life, Bill turned to his cherished children and grandchildren to help him negotiate this difficult time in his life.
He was affectionately known as "Zeke" by his children and grandchildren. He was known to have a remarkable sense of humor and often dressed in holiday garb that enhanced the festivities of those special occasions. His grandchildren believed that "any event he was at became more significant and more fun simply because he was there". They have commented on his "class and character" and described him as having a "huge heart" and being "humble , light-hearted, humorous, selfless, kind, intelligent and generous".
Dr. Laney married LaDonna McGee in 1996 and they enjoyed several years together. They traveled extensively and she also became a Minnesota Golden Gophers fan. Donna helped him extensively in his role as Editorial Chairman of the Journal of Oral and Maxillofacial Implants. She was residing in a retirement home at the time of Bill's death and has since passed away.
Dr. Laney was 91 yeas old. Rest in peace Bill Laney.
Dr. Ronald P. Desjardins
AP Life Fellow