Dr. Doug Wendt

1925 - 2012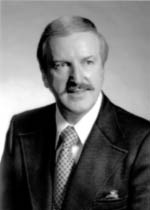 Douglas C. Wendt, 87, who operated a dental practice in Northern Virginia for more than 50 years, died March 17 at Tall Oaks Assisted Living in Reston after a stroke.

Dr. Wendt moved to the Washington area in the early 1950s and specialized in prosthodontics, or the replacement of missing teeth. Over the years, he practiced in Arlington County, Fairfax City and Springfield. He retired in 2007 and moved from Springfield to Tall Oaks.

Douglas Charles Wendt was a native of Milwaukee and a 1944 graduate of the University of Wisconsin. He received a second bachelor's degree from Northwestern University in Evanston, Ill., in 1946 and a master's degree in dentistry from Oregon State University in 1954. He served in the Air Force in the late 1940s and retired as a lieutenant colonel in 1951.

Dr. Wendt was a past president of the Northern Virginia Dental Society and a member of the Virginia Dental Association and the American Prosthodontic Society. He was Past President of the Academy of Prosthodontics, he was President during the 1990 meeting in Palm Springs, CA.

His marriage to Jocile Leonard ended in divorce. His wife of 34 years, Josephine Bullis Wendt, died in 2010. Survivors include five children from his first marriage, Douglas Wendt Jr. of Valrico, Fla., Steven Wendt of McLean, Matthew Wendt of St. Cloud, Fla., and Vicki Jo Burman and Pamela Miller, both of Annandale; four children from his second marriage, Carolyn McDonald of Annandale, Christine Gentry of Bristol, Va., Bob Parsons of Norfolk and Nancy Powell of Manassas; 13 grandchildren; and nine great-grandchildren.