Dr. Douglas A. Atwood

September 25, 1922 - June 29, 2010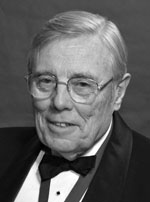 Douglas Allen Atwood, 87, M.D., D.M.D., of Chatham, Massachusetts, died at home on Tuesday, June 29, 2010, with his beloved wife of 63 years Minnie Eldredge Atwood at his side. Dr. Atwood had retired to Chatham, his wife?s home, following an accomplished career as a practicing dentist and as a professor and researcher of dentistry and prosthodontics.

Douglas was born in Boston on September 25, 1922, to Clifford Herman Atwood and Lillian Ovens Atwood and was raised by his parents in the Boston area, with his sister Virginia and brother Donald. He graduated in 1940 from Roxbury Latin School, and was able to attend the 70th reunion of his graduation in 2010. His five sons later attended his high school alma mater. He earned his A.B. from Amherst College in 1943.

Douglas was a second-generation dentist who at the age of 10 dreamed of attending the Harvard Dental School, like his father, and practicing dentistry with him. In 1943 he began a joint degree program with the Harvard Medical School and Dental School, and was simultaneously commissioned a Lieutenant in the U.S. Army.

Douglas and Minnie were married December 22, 1946, in Chatham, after he had completed his M.D. Douglas conducted a surgical internship at Boston City Hospital, spent two years as a surgeon in the U.S. Army Medical Corp., and earned the rank of Captain before leaving military service. During and after his service in the Army he pursued his dream of dentistry, receiving his D.M.D. cum laude from Harvard in 1951 and joining his father in the practice of dentistry in Back Bay, Boston. Douglas and Minnie settled in West Roxbury and raised their six children.

Father and son practiced together for several years until Clifford's retirement, when Douglas continued the thriving practice on his own. Throughout most of his practice, Dr. Atwood taught and conducted research part-time at Harvard School of Dental Medicine (HSDM). After 21 years of practice, he went full-time at HSDM, where he chaired the Department of Prosthetic Dentistry, directed the teaching and faculty clinics, and continued his research and teaching of post-doctoral students. Dr. Atwood's research on residual ridge resorption (RRR) was groundbreaking in the field of prosthodontics.

Dr. Atwood was a guest essayist before the Academy of Denture Prosthetics in 1955 with his lecture entitled, ?A Cephalometric Study of the Clinical Rest Position,? lecturing again in 1957 and 1959. Douglas was elected Associate Fellow in May 1956 (nominated by Raymond Nagle), received a three-year renewal in April 1959, and was then elected to Fellowship in May 1964. He served a five-year term as Secretary (1955 ? 1960) during which time he thoughtfully helped to define the unique nature and character of the Academy vis-à-vis the Federation of Prosthodontic Organizations (FPO). He followed Allen Brewer as President of the Academy in 1980 holding his meeting in Daytona Beach. In addition, Dr. Atwood served as FPO President and in numerous other leadership posi-tions in his field.

In 1981, Harvard School of Dental Medicine recognized his many contributions with the Distinguished Faculty Award, including the citation, "Teacher, researcher, clinician, administrator, you have managed to wear four hats without getting a swelled head." Upon his retirement, he and his wife devoted themselves to the conservation of Goose Pond and surrounding woodlands in Chatham. Douglas Atwood was a man of deep Christian faith. He was a member of St. Christopher's Episcopal Church in Chatham and of Emmanuel Episcopal Church in West Roxbury where he served several terms on vestry and as warden.

Cherished by his family, and loved and respected by friends, patients, students, co-workers, and colleagues as a man of integrity, humility, and kindness, Douglas Atwood gave much but asked for little in return. At the 50th reunion of his graduation from Harvard Medical School, when asked for his advice to the graduating seniors of 1996, he said, "'It is better to give than to receive.' Find something you like to which you can give yourself and give it your best."

A Celebration of the Life and Witness of Douglas Allen Atwood was held at St. Christopher?s Episcopal Church, Chatham, MA, Friday, July 2, 2010. His sincere faith was clearly in evidence engendering a true sense of comfort emanating from Minnie and family to the assembled community of friends. His final challenge to us was encapsulated in this verse, from the prophet, Micah, which accompanied his memorial photograph, ?This is what the Lord asks of you; only this, to act justly, to love tenderly, and to walk humbly with your God.?