Dr. Louis Blatterfein

July 19, 1911 - May 11, 2006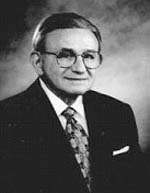 By Fellow Dr. Gerald Barrack
On Thursday, May 11, 2006 Dr Louis Blatterfein passed away in his home in New York City at the age of 94. Lou, an esteemed member of this Academy since 1969, graduated from New York Univ. College of Dentistry in 1933 at the age of 21 with awards for highest scholarship and highest proficiency in Prosthodontics. Two years afterwards he began his illustrious 43 years of teaching prosthodontics with a particular interest in removable partial dentures.
Lou was always very well organized, from planning the design of a partial denture, to his many lectures given to the students as well as nationally and internationally. His lectures were so beautifully organized that when I was a graduate student in 1971 I used to spend my lunchtime listening to his undergraduate lecture series on removable partial dentures. Not that I was particularly interested in partial dentures at that time (Frank Panno, Harold Litvak and I were known as "the whittlers" by Lou and Ira Klein), but I wanted to learn how to organize a lecture the way Lou did. It was always a model of logical sequencing. I can still hear him simplifying a complex procedure with one of his little sayings like ?you gain a little here, you lose a little there?. Indeed, I have been using that phrase with the students for over thirty years ever since I heard Lou use it. Lou was not only a world authority on RPD?s with his many articles listed as classic references in the literature, but he was also a superb clinician who had a private practice for over 55 years. He had a legendary reputation as a perfectionist and tireless practitioner. I had the privilege of seeing a few of his patients and the fixed gold restorations as well as the removable partial dentures were superb. Most were over 30 years old and still looked beautiful.
Lou retired from NYU in 1978 and was accorded the title of Professor Emeritus. But that did not mean he retired from dentistry. He served as section editor of the Journal of Prosthetic Dentistry from 1975-1992. Dr. S. Howard Payne, a distinguished fellow of our academy, was quoted in the tributes to Lou when the Dept. of Prosthodontics was being named for Dr. Blatterfein. "Lous wonderful and generous gift to NYU will always keep his name known to all future students, and that is the way it should be". He also went on to say : "During our days together as section editors of the Journal of Prosthetic Dentistry, Lou Blatterfein and I critiqued and edited most of the removable prosthodontic articles submitted to the journal. I was always very impressed with Lou's ability to analyze, criticize, and revise manuscripts. He had a definite knack for refining the text".
In addition to his generous gift to NYU for their naming of the department after him, his previous large gift created the Louis Blatterfein Center for Preclinical Sciences. All in all, Dr. Blatterfein had contributed well over three quarters of a million dollars to NYU. His contributions to his students knowledge of prosthodontics was even greater than his financial contributions to the school. He also gave a very generous gift to this Academy and many of you may have noticed that the welcome reception last night was named in his honor.
Lou was a very hard taskmaster in his clinical teaching, but it was only for the purpose of bringing out the best in each individual student. As many of his students sheepishly admit later on in practice, he certainly succeeded.
It seems that everyone has their own "Louie story". One of my favorites is one winter in the early seventies when it was time to head to Chicago for the annual meetings. We had all planned to leave after school on Friday but there was a very heavy snow falling and it was obvious to all that no flights would be leaving. Obvious to all except Lou and his buddy, Ira Klein. When we left school, there were the two stubborn old warriors waiting on the corner for their ride, their overcoats and hats covered with snow, huddled against the side of the building. When I respectfully told them that I really didn't think any planes could possibly take off in this blizzard, they just said they would take their chances. Needless to say, they left with us the next morning but only after they had already taken their trip to the airport that Friday afternoon.
Lou was also well known for his ballroom dancing. He was always willing and quite able to entertain the crowd at school functions by selecting the prettiest young secretary and putting on a real show. He did this at our Academy functions as well.
Dr. Blatterfein was a Diplomate of the American Board of Prosthodontics since its inception in 1948 and a Fellow of the American College of Prosthodontists since its inception in 1970. He was a Charter Fellow and past president of the Greater NY Academy of Prosthodontics; a Fellow in the American College of Dentists; and as I mentioned earlier a Fellow of this Academy.
There are individuals who set high standards and whose very presence and actions inspire us to greater achievements. They seem to know just the right steps to take, the appropriate words to articulate their innovative, often intriguing ideas. Lou Blatterfein was one of those individuals and we will all miss him.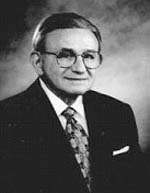 By Fellow Dr. Stephen Campbell:
It is with great sadness that I inform you of the passing of Dr. Louis Blatterfein on Thursday, May 11, 2006. He was 94 years old and passed away peacefully.
He presented his first paper entitled, "The use of the semi-precision rest in removable partial dentures", to the Academy of Prosthodontics in 1968 in New Orleans. He was nominated for Fellowship by Vincent Trapozzano and became an Associate in 1969, Active in 1972 and Life Fellow in 1991. He listed his date of becoming a Diplomate of the American Board of Prosthodontics as June 1948

An edited version of excerpts from an Academy Newsletter prepared by Gary Goldstein follow:

Louis Blatterfein

He felt his greatest achievement was first and foremost his dedication to dentistry. After graduating NYU with BA, Lou was given a full scholarship to dental school and graduated in 1933 as the Valedictorian of his class.

He was proud to have studied and taught with such legends as Victor Sears, Clyde Schuyler, Merrill Swenson and Vincent Trapozzano. He combined teaching with a successful private practice from which he retired in 1988. He started teaching in the preclinical area and worked his way up the ranks to Professor. After 42 years of service to NYU he retired in 1978 and was awarded Professor Emeritus status.

Lou was the longest dues paying member of the American Prosthodontic Society, having joined in 1938. He was the last surviving Charter Member of the American Board of Prosthodontics, a Charter Member of the American College of Prosthodontists and a Charter Member and past president of the Greater NY Academy of Prosthodontics. Louis?s greatest honor was being named a Section Editor of The Journal of Prosthetic Dentistry when Judson Hickey took over as Editor. He remained in that job for 17 years, where his ability to critic and edit gained him international acclaim.

Louis was also a giver. In 1985 his gift of $250,000 created the Dr. Louis Blatterfein Center for preclinical Sciences at NYU and in 1996 NYU named the Dr. Louis Blatterfein Department of Prosthodontics in recognition of his gift of $500,000. His gift to the Academy of Prosthodontics Foundation of $100,000 helped establish it in a meaningful way.

His interests revolved around spectator sports (he was a frequent attendee at all the major sporting events in the New York area) and travel. During his lifetime, he had traveled to 2/3 of the states in the US and to 22 countries worldwide, some numerous times.

He was always interested in dancing and had taken lessons in American and Latin Dancing. A frequent attendee at ballrooms, nightclubs and discos, he met and began seeing a famous Cuban dancer who helped him refine all the Latin dances. She gave him the incentive to bring his skills to a very high level. With Louis's natural rhythm they became an excellent dance team and traveled together all over the Caribbean. It was off to Argentina to learn the Tango, Brazil the Samba and the Dominican Republic for the Meringue.

Louis didn't know where he got it from, but he sure had it...