Dr. F. James Kratochvil

April 21, 1923 - June 7, 2016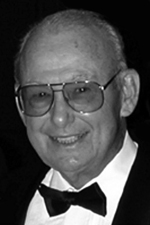 Dr. F. James Kratochvil, UCLA Professor Emeritus of Dentistry, passed away on June 7, 2016 at the age of 93. He leaves his wife Verna Mae Kratochvil, his three children James, Gary, and Pamela, seven grandchildren and six great-grandchildren.

Born Frank James Kratochvil II on a dairy in Osmond, Nebraska, Jim attended Wayne State University, joined the Naval Reserve; transferred to the University of Nebraska; eventually entered the College of Dentistry in 1943. Having met at the U of N he married Mary Virginia Hall (Kit) in 1947 at Great Lakes Naval Training Center. In the Navy Jim trained in general practice residencies and a prosthodontics specialty program challenging the ABP examination in 1957. He served on an aircraft carrier and many stations around the globe.

Following his distinguished naval career, Dr. Kratochvil joined UCLA in 1967 and created the new dental school's pre-doctoral removable prosthodontics program. His renowned postgraduate Prosthodontics residency was established in 1975 training generations of prosthodontists; many of whom became leaders in fixed, removable, implant and maxillofacial prosthodontics.

I knew Jim at two levels, first being a prosthodontics resident at Wadsworth VA in 1982.  As graduate students, we were mesmerized as Jim described how he developed the RPI concept for RPD design as we revelled being in the midst of a prosthodontics master sharing his incredible command of our specialty. Jim continually inspired his students to become leaders, teachers, innovators, and to challenge ABP examination.

Second and most meaningful, Jim recruited me to UCLA as Assistant Director of the Advanced Prosthodontics program.  My mentor was now my colleague as he offered insight on how to recognize strengths and weaknesses of each resident and tailor their training to maximize their potential. He inspired me in my career in dental education. Through Jim?s encouragement and sponsorship, I became an Academy Fellow.

Whether as a teacher, mentor, colleague, or friend, we were all blessed to have Jim Kratochvil enrich our lives.