Dr. Glen P. McGivney

August 3, 1937 ? November 28, 2012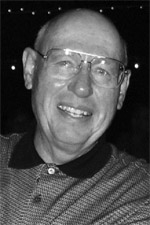 Academy Life Fellow, Past President and recipient of the Academy's Meritorious Service Medal, Glen McGivney passed away peacefully in the company of his family on November 28, 2012.

Dr Glen McGivney enjoyed a complete and balanced life. Born in Dillon, Montana in 1937 to Lawrence and Leota and raised in Salmon, Idaho, he married Lee Capettini and raised three children Megan Mitschrich, Greg McGivney and Erin Ramstack who collectively provided him with three grandchildren Zachary Mitchrich, Brandon and Tyler Ramstack.

His professional career was replete. He is a graduate of University of Montana and Northwestern University Dental School. After graduation from dental school he served as a Lieutenant in the US Navy in various places including Guantanamo Bay, Cuba. He held teaching positions at Northwestern University School of Dentistry and served as Professor and Chairman of the Department of Removable Prosthodontics at Marquette University School of Dentistry, Milwaukee, Wisconson and the State University of New York at Buffalo, New York. He also served with distinction as Editor of The Journal of Prosthetic Dentistry and was author of McCracken's Removable Partial Prosthodontics. Glen and Lee retired to Carolina Trace in Sanford, North Carolina.

Glen McGivney was a fair, multifaceted and compassionate human being. He could be described as a "man's man" with his love of life and sport, his infectious sense of fun, a ready joke, a spontaneous smile and his leadership ability when his sense of balance demanded one relax with a beverage in hand after a hard day's work. His love of life was expressed with palpable passion when he was surrounded by family, with friends, with students teaching and of course enjoying college basketball and playing the game of golf. He was a dedicated and uncompromising individual when it came to teaching and scientific writing which he pursued to the highest standards. His dedication to family, to his students and to his work was unshakable.

Glen McGivney by any measure was an outstanding role model and true mentor to a great many people and countless students that he touched in his life. Glen McGivney unquestionably did his best and left this world a better place. Glen's influence on the lives of so many people will live on.