Dr. Louis Boucher

May 24, 1922 - October 5, 2010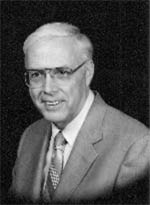 Eulogy: Art Rahn

Introduction: I recently read a book entitled "Freddie and me" written by Tripp Bowden about his friend and mine, Freddie Bennet, who was a long-time Caddie Master at the Augusta National Golf Club. So I thought it would be appropriate to steal from that title and call what I have to say this morning "Louie and me".

Memorial: In life you come into contact with many people who help you in some way to obtain your personal and professional goals. Louie Boucher was one of the members of that group for me. He was often mistakenly thought to be a relative of Carl Boucher's but to those of us close to him, he was affectionately known as "Louie the Lug". I'm not sure how he got that handle but it stuck among his close colleagues at Lexington and Augusta for many years. My association with Louie started when I was a dental student at Marquette University and he was one of my gross anatomy instructors. In fact, I'm not sure I would have passed that course without his constant tutelage. His advice and friendship from that point on continued as we both went through our professional lives. The long hours I spent with him in the study of his home at night writing our book on Maxilllofacial Prosthetics with Mel bringing us cokes will long be remembered.

Louie enjoyed doing research and one funny story I've got to relate was about the time he was heavily pursuing the CE circuit while hawking his plastic In Memoriam Rube Goldberg apparatus which he had worked on, that looked like a miniature replica of a Proctor and Gamble soap factory. Lower dentures were placed in this contraption for a couple of hours where a film to lower surface tension, formed on the surfaces of the dentures which were then placed back in the patient's mouth and better retention was supposedly obtained. Well, after Louie had spent a few years touring the country with this thing, Dentsply came out with a 2-3 oz bottle of liquid called Durabond which could be brushed on the denture, lowering the surface tension without the need of Louie's big machine. Needless to say Louie's course giving on that subject came to an abrupt end with much kidding from Chuck Ellinger and me.

Louie continued to be an influence in my life as I went to the University of Kentucky where he was director of Graduate Studies for a couple of years then onto the Medical College of Georgia (now, Georgia Health Sciences University) where he was Associate Dean for Biological Studies. He was an avid participant in organized Pros-thodontics and became an officer and usually President of practically every Prosthodontic organization of that time. If he had not resigned from the Academy of Prosthodontics, and then been reinstated, he probably would have been President of this group also.

We jokingly told him that we hoped that they didn't create anymore groups or he'd be president of those too and we'd never see him.

In conclusion, Louie and Mel were a vital part of my family's life. He was a conscientious educator, avid researcher, and a good person. For me personally, even though I did not see him much in his later years, he remained a good friend and I will miss him.