Dr. S. Howard Payne

May 4, 1914 - April 29, 2009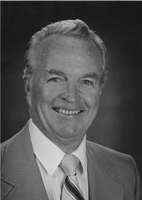 Dr. S. Howard Payne, world renowned prosthodontist, died April 29
th
, 2009 at the age of 94 in Tucson, Arizona following a brief illness.
Born in Buffalo, New York, May 4
th
, 1914, Dr. Payne graduated in 1932 from Kenmore High School.
He attended the University at Buffalo, where he graduated Cum Laude from the School of Dental Medicine in 1937 when he joined the Faculty and became professor and later Assistant Dean of the Dental School. He was known for his passion in teaching and received numerous commendations from graduate students and colleagues in the USA and around the world including Thailand, Japan, Egypt, Scotland, India and Iraq. Additionally he worked in private practice in the Buffalo area. Dr. Payne was elected President of the Academy of Prosthodontics in 1967, and also served as President of the American Board of Prosthodontics during the same decade.
Over the years he became a highly sought after lecturer in his field, giving many courses in the USA, Canada, Europe, Egypt, and in South Africa where he was elected an Honorary Member of the South African Prosthodontic Society. In addition to his presentations at national and international meetings, he published several papers and book chapters and served as section editor and consultant to the International Journal of Prosthetic Dentistry for over 30 years. Dr. Payne was vital in establishing the Department of Dentistry and Maxillofacial Prosthetics at Roswell Park Cancer Institute.
After serving on the Faculty at the Dental School for forty four years he retired in 1982 to Tucson Arizona where he enjoyed swimming and working out in the gym seven days a week. Following retirement in 1983 he received the highest rank given by the University of Buffalo, 'Distinguished Retired Clinical Professor Emeritus', and in 2006 the Academy of Prosthodontics presented him with its first 'Distinguished Service Award.'
Dr. Payne was a life-long member and avid sailor at the Buffalo Canoe Club and the Buffalo Yacht Club. He is survived by four daughters, ZoAnn Schwabel (Gerry), Cheryl Rogers (Bill), Dr. Jennifer Trask (Sean), Denise Payne, 6 grandchildren and 8 great-grandchildren. A memorial service is being planned for August 2009 at the UB School of Dental Medicine. Donations can be made to the 'Dr. S. Howard Payne Post Graduate Prosthetic Scholarship Fund' c/o UB Foundation Inc., PO Box 1232, Buffalo, New York, 14240-1232.