Dr. Kenneth D. Rudd

February 10, 1916 - June 14, 2013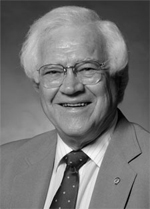 Kenneth D. Rudd, DDS, died peacefully at his home in San Antonio, Texas on June 14, 2013 at the age of 97. Dr. Rudd was born on February 10, 1916 in Marion, Kansas. He was married to Helen E. Prosser for 66 years who preceded him in death. He is survived by three children: Kenneth E. Rudd of San Antonio, Robert W. Rudd, DDS, of Colorado Springs, Co, and Katheryn S. Rivera of San Antonio; his four grandchildren: Charles Rivera, Bethany Chance, Marcus Rudd , and Ashleigh Skarstedt; and two great grandchildren; Tessla Chance and Calder Rudd.
Dr. Rudd received his DDS degree in 1943 from the University of Missouri School of Dentistry at Kansas City. He then established a private practice in Kansas City, Kansas. In 1954 he joined the
United States Air Force
. During his 22 years of active duty service he spent 15 years at Wilford Hall, Lackland Air Force Base, serving as the Chairman of the Department of Prosthodontics, which he helped establish, and later as Director of Dental Services. While there he was afforded the opportunity to practice dentistry on the original seven Mercury astronauts. At Wilford Hall, he was responsible for creating what would become the top graduate prosthodontics training program in the world. He and Helen also enjoyed an assignment to Wiesbaden, Germany where he served as Chief of Prosthodontics at the Base Hospital. His next assignment was Command Dental Surgeon at Wright Patterson AFB, Ohio. He retired from the Air Force in 1975 as a full Colonel with two Legion of Merit Medals, which is the highest non-combat military award.
Dr. Rudd was hired by the
University of Texas
Health Science Center in San Antonio as a tenured full professor in the department of prosthodontics and later became Associate Dean of Continuing Education. In 1993 he was awarded Professor Emeritus of that University. He continued to work at the Dental School until 2012, contributing his time as he updated the existing specifications and terminology for the American Dental Association's Dental Products Standards Development Vocabulary.
Over his career, Dr. Rudd lectured extensively in the United States and several foreign countries. He was honored to have a dental clinic in Chiapas, Mexico named after him. He authored over 50 published articles, 6 text books, wrote 4 instruction manuals, and was Editor of the Dental Technology section of the Journal of Prosthetic Dentistry. In 1986 he was awarded the honor of Texas Dentist of the Year. He was one of ten founders of the American College of Prosthodontics and also served as president of that organization. He was a diplomate and past president of the American Board of Prosthodontics. His honors and awards were quite numerous but he was most proud of being the recipient of the Ashbel Smith Professorship Award given by the University of Texas Regents. This was not a dental honor: it is awarded to the top professor in the entire University of Texas educational system. He was most recently recognized by the American College of Dentists Foundation for the Lifetime Achievement Award.
Dr. Rudd was a 32nd degree Mason, a member of the Alzafar Shrine Temple and a member of St. John's United Methodist Church. As hobbies he enjoyed hunting, fishing, woodworking and jewelry making. He will be dearly missed by his family. We will always remember his deep voice and hearty laugh, his sense of humor and the twinkle in his eyes. He leaves for us all an example of integrity and that of a true gentleman. He also will be greatly missed by his friends and his colleagues, but his legacy in the field of dentistry will continue in the hearts, minds, and hands of dental clinicians around the world.
The family would like to thank the staff at Heartland Hospice and a very special thanks to his at home caregivers who loved and cared for him around the clock for the last several months.