Dr. Robert B. Lytle

July 6, 1915 - August 31, 2012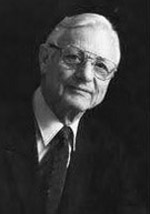 Robert B. Lytle, 97, of Lincoln, died Friday, August 31, 2012. Born July 6, 1915 on a farm near York, Nebraska to Charles and Lillie (King) Lytle. Received a degree from University of Nebraska College of dentistry in 1939. Following two years of private practice in Osceola, Nebraska, Bob joined the Navy in 1941. He served on the hospital ship Samaritan during WWII. Included in his Navy career was a 7 year tour of duty teaching prosthodontics at the Naval Dental School in Bethesda, MD. Bob retired from the Navy with a rank of Captain in 1963. He taught prosthodontics at Georgetown University in Washington, DC from 1963 to 1983 when he was appointed Professor Emeritus. Bob continued a private prosthodonic practice in Washington, DC until June 1999, sixty years after he graduated from dental school. During his years at Georgetown School of Dentistry, Bob and Phyl were avid sailors on the Chesapeake Bay. In 1999, they retired to the golfing community of Pinehurst, NC. In NC, Bob particularly enjoyed being near six of his great grandchildren and the visits of the 6 great grandchildren who traveled from the west and east coast. He moved to Lincoln in September of 2011.
Bob is survived by his wife of 73 years Phyllis (Alfred) Lytle, of Lincoln; daughter Susan Boswell and son-in-law Richard of Lincoln, daughter-in-law Mina Lytle of Virginia Beach, VA, daughter-in-law Ruth Lytle, of Port Townsend, WA, and son-in-law Oscar Graham (Pete) Gulley, of Southern Pines, NC; grandchildren Jeff (Diane) Boswell, Kathy (Kirk) Godtfredsen, Beverly (Mark) Coose, Charles Lytle, Amy (Randy) Steele, Graham (Angel) Gulley, Paul Lytle, Megan (Chris) Hunt, Dennis Lytle, Robert J. Lytle; 12 great grandchildren; nieces and nephews.

Preceded in death by children James Lytle, Robert B. Lytle and Linda Gulley; sister Mildred Schnasse and brother Charles Lytle.