Thomas Arnold Curtis

November 21, 1925 - February 17, 2007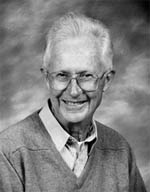 Tom Curtis was a native of the San Francisco Bay Area, who led a full and wonderful life; he was a gifted athlete, a war hero, a scholar, a devoted husband and loving father, who left an enduring legacy for his family, community, profession. He did more than his part to make this a better world for us and for future generations.
At Berkeley High School, he was a three-sport varsity athlete and received multiple college scholarship offers. At the age of 17, he signed a contract to play baseball in the Cincinnati Reds farm system. He completed one semester of college at Cal Berkeley before entering the U. S. Army, where he served in the elite 10 Mountain Division. For his combat service in Italy, he received two Purple Hearts, the Bronze Star and Silver Star metals for his bravery.
In 1945, Tom entered undergraduate school at the University of California at Berkley. He graduated UCSF School of Dentistry in 1951 with the highest academic awards. He then joined his father, Harold Curtis, in his practice in Berkeley. About the same time, Tom met, courted and married Leota 'Sis' Moulton, forming a bond of love and support that spanned over 55 years.
Tom was an accomplished scholar who published over 50 scientific articles and was a co-author of the definitive textbook in Maxillofacial Prosthodontics. He received the highest levels of recognition at every stage of his career, including membership in Omicron Kappa Upsilon Dental Honor Society, President of the Berkeley Dental Society, President of the American Academy of Maxillofacial Prosthetics and President of the American Board of Prosthodontics. Tom received the Ackerman Award from the Academy of Maxillofacial Prosthetics in 1980 and the first Fred Gulic Award for Distinguished Life Members from the Pacific Coast Society of Prosthodontics. He also started the Graduate Prosthodontic program at UCSF in 1980.
Tom was especially active in the Academy of Prosthodontics and Pacific Coast Society for Prosthodontics, where he and Sis formed lifelong friendships with members of both groups. In retirement, fishing trips to Mexico and to Alaska with prosthodontic colleagues were the basis of continuing and lifelong friendships. One of his proudest achievements was catching and releasing a 200 lb. Blue Marlin on a fly rod while fishing in Zihuatanejo, Mexico.
Tom left a significant professional legacy, but he left an even greater legacy as an outstanding husband and father, and being the type of man with whom everyone enjoyed participating in fellowship.
Respectfully submitted,
Don Curtis