Dr. Gordon E. King

June 6, 1931 - March 15, 2020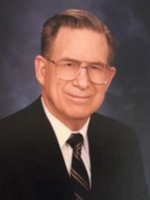 Born in San Diego CA, on June 6th 1931, Doctor Gordon E King passed this life on March 15th 2020 . Dr King was educated at the University of California on a football scholarship. he graduated from the University of California San Francisco dental school in 1952 in Doctor Tom Curtis's letter of recommendation to the Academy of Prosthodontics on Dr. Kings behalf, Dr. Cutis noted in his opening sentence. Gene King was a fine linebacker for the University.
Doctor King was a Navy ROTC candidate, and he received a direct Commission as a Lieutenant. On active duty he served on the battlecruisers USS Rochester and USS Saint Paul, aircraft carrier USS Midway, and at combat field hospital, De Nang, Vietnam. I recall doctor King encouraging me to get my American board of prosthodontists certificate, and advised me that he was actually on active duty in Vietnam when he completed his part II patient clinical presentation.
While stationed at Treasure Island, California, Dr. King was the personal dental officer to fleet Admiral Chester W Nimitz. I recall seeing a photograph hanging on Dr Kings office wall of a Navy carrier with the Admiral's signature and personal salutation to Dr King.
His other duty stations included Yokosuka Japan, Oakland naval hospital, Pearl Harbor, and Bethesda MD. Dr. King was a resident at the University of Texas MD Anderson Cancer Center while he was on active duty in 1968. Dr. King was among the first diplomates of the American Board of Prosthodontists. He returned to MD Anderson upon his Navy retirement in 1979 as an associate professor… later becoming chairman and professor of the Department of Maxillofacial Prosthodontics and Dental Oncology until his retirement in 1995. During this time he served as chair of numerous institutional committees, delivering an everlasting impact by fully integrating the prosthodontic clinicians within the MD Anderson medical system. He became a professor emeritus and lectured and treated patients at both MD Anderson and the University of Texas Dental Branch upon his retirement. He taught hundreds of trainees both in the military and in academia…. many of whom became leaders in maxillofacial prosthodontics as directors and chairs of respective programs throughout the world. I will be forever grateful that he took a chance, sight unseen on an Iowa farm girl…all on the recommendations of his colleagues. For his trainees, he was their champion, he was generous with his time… and even known to cosign a car loan or two.
Dr. King was a charter member of the American College of Prosthodontists and past president of the American Academy of Maxillofacial Prosthetics . He received one of the highest honors of the AAMP when he was presented the distinguished Ackerman Award. He assisted as an institutional sponsor in the creation of the International Academy of Maxillofacial Prosthetics and delivered the keynote speech at their first meeting in San Francisco.
Dr. King became a member of the Academy of Prosthodontics in 1984. He was sponsored for membership by doctors John Holmes and Richard Grisius. His gave a maxillofacial themed presentation describing the nasal endoscopic evaluation of the palatal pharyngeal complex as it relates to speech rehabilitation. To witness his chairside charm and skill with a cancer patient, was a priceless experience.
Dr. King called everyone pardner. He was known for his colorful Kingisms. The expressions were published in a dictionary and given to every incoming trainee. It was the MD Anderson version of the Glossary of Prosthodontic Terms. One that was heard many times per week on the clinic floor, accompanied by a hand on the shoulder "pardner, that dog won't hunt. Anyone who spent time with him, will always remember his brisk walk, his uplifting hugs, and the shaking of his head from right to left with incredulity….all the while with a huge smile on his face.
Outside of his busy Academic life Dr. King was a Deacon at the Second Baptist Church in Houston. For 20 years he volunteered in the Texas Department of Correction prison ministry programs. He also volunteered for hospital visitations, answered calls on the prayer line, and taught a Sunday school Bible study group. He was a major supporter of the Texas Baptist Children's Home. He is survived by his loving wife Beatrice , Bea, Little Bear, 6 children, and many grandchildren. He was interred at the Houston National Veterans Cemetery.
Dr. Rhonda Jacob
AP Fellow