Westin Copley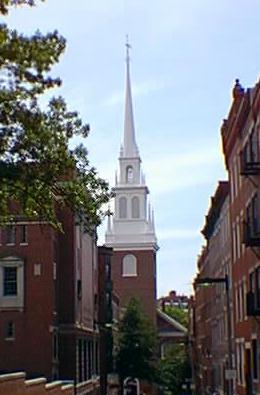 Living a Life Prepared by Rileys
The 85th Annual Meeting of the Academy of Prosthodontics kicked off in fine fashion with a warm welcome from current President Gary Rogoff and Founding Father Ben Franklin who promised us a fine time in Beantown. Some promises can be hard to keep, but Cliff Van Blarcom's scientific program was scintillating, and the quality of the social experiences was so high that a new saying has been added to the Glossary... "Keeping up with the Rileys".
From the first to the last scientific session, every presentation seemed to mix intellect, style and audio-visual wizardry to the point that it seemed that the next session could not possibly be as good as the one from the day before; and yet it was. If one of the Academy's goals is to have a meeting where scientific inquiry and clinical practice merge to offer us a vision of discoveries and tomorrow's therapies, then the Boston meeting will go down as one of the most successful yet. Friday morning began with Dr. Michael Attas presenting thought-provoking perspective on ethics in healthcare. Following on, Dr. Ben Wu showed us exciting applications from his work in bioengineering before Dr. Glenn Wolfinger, Associate Fellow Carlo Marinello and Dr. Donna Hecker presented implant-focused presentations.
At the beginning of Saturday's session we returned to bioengineering with presentations from Dr. Dianne Rekow and Dr. Van Thompson before we were mesmerized by the wisdom and insight of Dr. Sigmund Socransky. A tough set of acts to follow, but Dr. Stefan Neeser and Fellow Ken Malament rose to the challenge admirably. Sunday morning showcased a blend of present-day and futuristic topics. Dr. Kendra Schaefer discussed taste perception with complete dentures, Fellow Tom McGarry explained implant placement by prosthodontists and Fellow Steve Parel described use of milled titanium frameworks along with review presentations by Fellow Dan Nathanson and Fellow Bob Kelly on resins and zirconia ceramics respectively.
The presentations made by Dr. Leila Jahangiri and Dr. Tak Ogawa gave us a glimpse of a future with molecular biology-based treatment, before Dr. Radek Mounajjed described his experiences as a prosthodontist in his native Czech Republic. On Monday morning we had the opportunity to evaluate potential Academy Fellows and experts in their fields. Presentations were made by Dr. Lily Garcia, Dr. Thomas Salinas, Dr. Gary Solnit, Dr. Ahmad Maalhagh- Fard and Dr. David Gelb, Dr. Thomas Vergo and Academy Fellows David Eggleston and Lyndon Cooper. Following, Fellow Ron Jarvis whetted our appetite for next year's meeting with a preview slide show.
The social events were tremendous and showcased Boston in a variety of different ways. Whether it was Premeeting golf, a City Tour, a Boston Harbor Cruise (with "Police Escort"), a trip to the Museum of Fine Arts, a visit to the USS Constitution, a tour and dinner at the John F. Kennedy Library (with an Irish dancing upgrade), a journey through Filene's basement, a wonderful Installation Banquet or the Post-meeting outing to The Boston Pops, there was something for everyone to enjoy. A standing ovation at the Installation Banquet was well-deserved for Ted and Marguerite Riley, our Local Arrangement Chairs. And so we now look forward to the 86th Annual Meeting in Niagara Falls with the anticipation of rekindling the embers we left aglow in Boston.