Oh Canada!
 By Geoffrey A. Thompson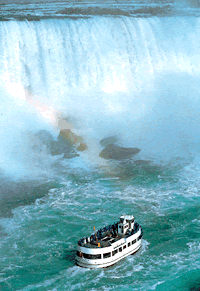 Canada is always a hospitable and convivial place to visit (for those of us from south of the border) and the venue for the 86th Annual Scientific Session of the Academy of Prosthodontics in Niagara Falls was no exception. What an awe inspiring backdrop the Horseshoe Falls provided for this years session! The falls actually embodies our organization, ever present, powerful and yet ever changing.
The meeting got off to a splendid start on Tuesday with the Dr. Louis Blatterfein Welcome Reception and Dinner, always a highlight of the meeting. It is a time for sharing collegial and personal time with those that we have grown with and to talk with new members and invited guests we had not had a chance to speak with before. The dinner was excellent and was just a taster of more culinary treats to come later in the week. The slide show, as always, was a big hit. Our hats go off to our local arrangements committee co-chaired by Dr. and Mrs. Ronald Jarvis for a fine sampling of Canadian hospital­ity. It could not have been done any better, thank you very much! We would also be remiss if we did not acknowledge our corporate sponsors for their generous contributions, we appreciate it.
The scientific session started as it always does, with a call to order, invocation, followed by the introduction of guests and recognition of distinguished fellows. I think the number distinguished members in attendance even surprised our immediate past president, Dr. George Murrell, for he later commented that it would have taken less time to introduce those who were not prominent in the profession of prosth­odontics.
This year's theme, Creating Change with Innovations in Prosthodontics, was jump-started with an effective and hu­morous look at our ability to be creative presented by Roger Firestien. How many of you have implemented your ideas for your "dream bathroom"? Hope you also took a look at your home and life insurance policies. Completing the first mornings presentations on creativity and effecting changes in the future were academy fellows Dr. Tom McGarry, Dr. Charles Goodacre and Dr. Eric Rasmussen.
The second day looked at the implant interface to include lectures on predictable esthetics, prostheses design, treatment planning, and surgical and post-surgical considerations.  Pre­sentations were made by Dr.'s Peter Schifpbach, Carlo Ercoli, Alper Çomut, Heidi Myshin, Joseph Kan, Bernard Touati, and Associate Fellows Jeffrey Rubenstein, Christopher Marchack and Steven Sadowsky.
The afternoon social outing gave us an up close and personal look at just where all the water goes when it crosses the falls. Magnificent! From the perspective below the falls, it is un­believable that anyone of sound mind would venture a cross­ing over or down the falls. In the evening, we headed to the uproariously funny Oh Canada Eh! for dinner and a show. A good time was had by all and a very good time was had by "Johnnie" Agar and Stephen Campbell.
I had the pleasure of sitting next to Dr. George Zarb on the bus ride back from dinner. We talked about what I was doing in the Army and what he was going to do now that he was retiring. My presupposed ideas about retirement were dashed when he told me about all the things he would be involved in. Congratu­lations again Dr. Zarb, you are an inspiration to all of us. Friday's scientific session focused on occlusion and disorders associated with "non-ideal" occlusion. Presentations shared the historical basis for treatment, the current state and rec­ommendations for future research. The morning talks were shared with us by esteemed Academy Fellows Dr.'s George Zarb and Thomas Taylor and by Dr.'s Lysle Johnston, Paul Pokorny and Charles McNeill. It is my pleasure to report that no chair-throwing, 1st sights, or profane swearing occurred in what, in times gone by, would have been an incendiary event.

The Presidential Reception and Installa­tion Banquet were located at the Hilton Niagara Falls and again the superb plan­ning and execution of the event by the local arrangements committee showed. As a group, we clean up pretty good don't we? A great dinner was served and we were entertained by "In Effect", a high school vocal jazz ensemble. We sadly said goodbye to Dr. George Mur­rell as our president, but warmly greeted Dr. Clifford VanBlarcom as he was in­stalled as our 82nd Academy president.

On the ?nal day, the session challenged what we thought we already knew, ex­posed us to new treatments and materi­als, and gave us a look at education and prosthodontic records. Papers were pre­sented by Academy Fellow, Dr. Richard Frank and Dr.'s Steve Marquardt, Alan Hickey, Peter Stevenson-Moore, Harel Simon, Norman Hammer, Timothy Saunders and last but not least John Zarb. With the close of the 86thAnnual Session we go back to our busy lives, and when we get a moment, we will look back upon our time spent in Niagara Falls with glad­ness. We now set our sights for Scott­sdale, Arizona, the sight of next years meeting and it looks like a good one!