Outreach
This article appeared in the University of Rochester publication "Momentum" for the Fall of 2008 and is reproduced with permission.  Outreach projects involve Fellows of the Academy, three of whom are illustrated in these photographs.  The Outreach Program is chaired by Dr. Eric Rasmussen.
MAKING A DIFFERENCE
CHANGE THE WORLD, CHANGE YOURSELF
The Eastman Legacy Lives on in Alumni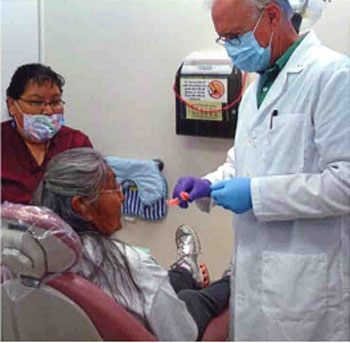 When the Academy of Prosthodontics decided 16 years ago to re-direct its efforts to become more focused on outreach, in addition to presenting research, little did they know what exciting adventures, rewards and great fun awaited them.
"Our first project was to help a short-staffed clinic on an Indian reservation in Ada, Oklahoma," said Ed Plekavich, DDS, MS (Prostho '73). "When 10 of us arrived for a week's worth of volunteering, we learned they had hundreds and hundreds of people on a waiting list for dentures."
Isolation and limited resources have resulted in untreated dental disease and loss of teeth. The American Dental Association, which is lobbying for additional funding for Indian Health Service (IHS) dental needs, reports that 65 percent of
IHS specialists will be eligible for retirement within a year. In addition, it blames population growth, medical inflation and flat budgets for this increasingly serious situation.
To date, 1,292 dentures and partials have helped 715 patients, thanks to some 4.0 different dentists and technicians affiliated with or a guest of the Academy of Prosthodontics, a group founded 100 years ago by dentists with an interest in complete dentures. Together and individually, they've volunteered in America's most beautiful areas ? Alaska, Utah, Montana, Wyoming, Oklahoma, North and South Dakota.  The projects are listed.
"It's really more fun than anything else," Dr. Ed Plekavich said (pictured above describing the process to a patient). "The people you treat are so nice and they're excited you're there. Many of the patients we see have had no teeth for years. One elderly Navajo woman reminded a new volunteer of his grandmother. I watched them throughout the week, and she treated him like her grandson... they shared such a warm relationship, and she had tears in her eyes when he left."
"This is our biggest year so far, with six different sites and about 35 people volunteering," said Eric Rasmussen, DDS, MS, who has chaired this outreach effort since its inception. Initially, the group went back to Ada, Oklahoma each year, but soon added new sites to the mix. "We serve about 25-30 patients each visit. Making dentures is a very labor and equipment intensive process, and we're working on site with limited, old fashioned equipment and some things McGyver would be proud of."
Originally, the Academy, through its Foundation, paid some of the expenses for the dentists who volunteer. Today the IHS sometimes provides transportation and lodging. They also get significant support from manufacturers and dental suppliers who generously donate materials. Some of them include The Journal of Prosthetic Dentistry Editorial Council, The Dorothy Snyder Foundation, Dentsply International, Ivoclar Vivadent, Straumann Switzerland, Patterson Dental Inc., Brasseler, Inc., and AP Foundation.
Transportation is always a problem because many patients live quite remotely from the clinic sites, and many have to walk for hours to come for their appointments. Others depend on friends, relatives, or tribal or IHS transportation.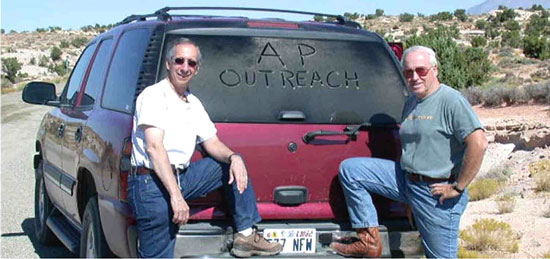 DRS. GARY ROGOFF (BA '67, PROSTHO '74, DNS '80) AND GERALD GRASER VOLUNTEERED IN UTAH.
"We had to work out of the back of a pick-up truck, in tents, or off picnic tables," Rasmussen explained. "In Juno, Alaska, patients traveled by boat or airplane to get this desperately needed service."
"Sometimes you sleep on hard floors, work 12-15 hours a day, skip meals, and it still is --by far-- the best week of the year you'll ever spend," promised Plekavich, who has served at various reservations frequently since the program started.
"I'm convinced the giver gets more out of it than the recipient," added Plekavich, who also enjoys working alongside his former EDC classmates he wouldn't see otherwise. "Doing something for someone else makes you feel good, and we're programmed to do that. I believe there's something in our DNA, it's part of' our nature. The compensation is far greater than anything money can buy."
Rasmussen, who also volunteers at a free clinic in his hometown of Madison, Wisconsin, agrees.
"Anytime you help other people, you feel good about yourself; it sort of justifies your existence," he said. "And you never know, you may influence a young person to go into dentistry or help someone in the community. But I think it does me more good than it does them ? I feel terrific when I help others."
But that's not all the benefit for Rasmussen, who one year was invited to participate in a Native American Sundance ritual that turned out to be a life changing experience for him.