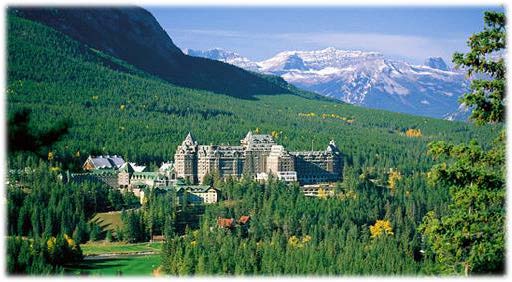 Dear Fellows,

As the executive council and RES are in the final phase of the preparation for the 2019 meeting, we wanted to take a moment to provide you with an additional travel information. To reach Banff, you will need to fly into Calgary International Airport, the airport code is YYC, and take a shuttle bus to Banff.


We recommend that you allow at least 1 hour before your planned bus ride. Banff to Calgary typically takes 1 hour 45 minutes to 2 hours. The shuttle bus usually runs from 10 am to 10 pm every hour and can be booked online. Below is a link to the shuttle bus company.
Use promo code AP2019 to receive a 15% discount, in the Promo Code section on the final payment page.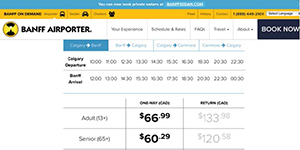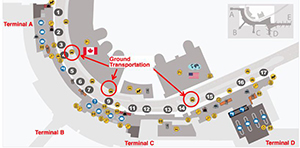 The YYC airport map at the arrival level is shown above. The ground transportation pick-up areas are marked in red for your information.

Please see below for other useful information for planning your trip:
The meeting will be held at the beautiful Fairmont Banff Springs Hotel
The annual session begins on Wednesday, May 29th at 7 AM with the Get Acquainted Breakfast. So, please plan to arrive on Tuesday, May 28th.  Deadline for Group Rate Discount is April 26, 2019 OR WHEN ROOMS SELL OUT!
The annual scientific session ends on Saturday, June 1st at 12:30 PM and followed by Nobel Biocare Workshop, 2-5 PM.
There will be only one business meeting in the afternoon of Friday, May 31st.
Depending on bus transfer and flight schedules, it might be easier to depart on Sunday, June 2nd.
Parking at the Fairmont Banff Springs Hotel is $27.00CAD per day Self Park, or $41.00CAD Valet Park (subject to change without prior notice)
We look forward to seeing you there, and if you have any questions regarding the meeting, please let me know.
Sincerely,
Mijin Choi, DDS, MS, FACP, MBA
Secretary-Treasurer
Academy of Prosthodontics
GETTING TO BANFF
DIRECTIONS TO BANFF FROM CALGARY AIRPORT
The Calgary International Airport is in the northeastern quarter of the city of Calgary.
All directions to Banff will require travel westward.
Depart the Calgary International Airport. At the first intersection turn left onto Barlow Trail NE.
Follow Barlow Trail for approximately 2 minutes until you reach the exit for Airport Trail. Turn left (West) onto 96 Ave NE/Airport Trail.
Continue driving on Airport Trail for approximately 2 minutes until you reach the exit for Deerfoot Trail (Hwy 2).
Turn right (North) onto Deerfoot Trail (Hwy 2).
Continue North on Deerfoot Trail for about 5 minutes, take exit 271 onto Alberta 201/ Stoney Trail West.
Continue on Stoney Trail for approximately 20 minutes until you reach exit 36 for Highway #1 (also known as 16th Ave.). Turn right (West) onto Trans Canada Highway #1.
Continue on Trans Canada Highway #1 for approximately 1-hour until you reach the Banff National Park entrance gates. Please visit the following website to obtain a park pass, https://parkpass.banfflakelouise.com. Park passes can also be obtained at the park gates. Once you have gone through the park gates, continue driving West for approximately 15 minutes until you reach the first exit to Banff (Banff/Lake Minnewanka exit).
Take the Banff exit, turn left at the stop sign onto Banff Avenue and continue straight. You will drive through the town of Banff until you reach the Bow River Bridge. Cross the bridge and at its end turn left onto Spray Avenue and stay to the left on this road until you reach its end at which the Fairmont Banff Springs Hotel is located.
We wish you a safe drive and look forward to welcoming you to the Castle in the Rockies. If you have any questions during your travels, please contact us at 403-762-6895