96th Annual Meeting of the Academy of Prosthodontics
"Successful Outcomes with Evidence-Based Treatment Concepts"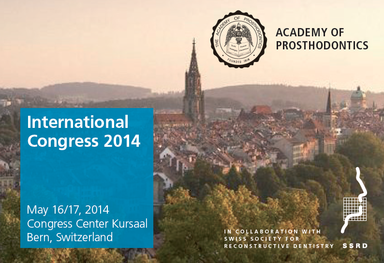 May 13 - 17, 2014
Bern, Switzerland.
In 2014, the Academy held an "International Congress" as part of its annual meeting. The International Congress was co-sponsored by the Swiss Society of Reconstructive Dentistry and logistically supported by the Center for Continuing Dental Education (CCDE), a spin-off company of the University of Bern, active in the organization of Continuing Dental Education. The Academy was delighted to organize this meeting in collaboration with our Swiss colleagues and to have the opportunity to share prosthodontic interests with our colleagues and friends around the world.